When Do You Need a Boiler Repair
Posted by:
Admin
Tags:
Boiler Repair
Posted date:
02-09-2016
When Do You Need a Boiler Repair?
Your boiler is a very important part of your home. Let's take a look at how you can improve its effectiveness and how you know when you need repairs.
There can be many reasons for replacing your boiler. One of the most obvious ones is when your boiler is no longer effective.
This will significantly impact your home environment, not to mention your electricity bills. If the boiler does not work efficiently it can quickly increase your electricity spending every month.
If you bought a very old house, there's a chance that the heating system can be outdated. This can be an indication that a replacement is necessary.
Get an experienced professional to help you evaluate your current equipment to determine what needs to be replaced.
It might be expensive at first, but a modern boiler will be much more energy efficient as well as smaller and have a quieter operation.
You also need to ensure that all your equipment is working like it should. They should not be any leaks or any damaged parts. This can quickly become more expensive over time. This is why you should consider repairing your boiler when necessary.
Keep in mind that regular servicing is also required. This will ensure that your boiler runs efficiently all year round.
You should employ an experienced boiler installation team. Ensure that they are Gas Safe registered so they can install a new boiler, and also provide necessary repairs when needed.
How much does it cost to repair a boiler?
The cost of boiler repairs can widely vary depending on the damages or faults in your system. You should be prepared and expect to pay from around £150 up to about £400.
The price will rise with either minor repairs, for example, gas valve or circuit board or the replacement of the boiler fan or potentially more severe repairs like a heat exchanger replacement.
The exact numbers and figures of the final costs are hard to decipher; every company service is different. There are various variables such as the boiler type, the boiler manufacturers, the cause of the fault, and your boiler's age.
Older boilers are much more expensive to repair as the parts needed to complete a replacement are put at a much higher price. The address of your home or property could also affect your final price as different parts of the country or towns could cost more.
Carbon monoxide is a harmful gas responsible for killing around 25-50 people each year in the UK.
Research made by the Carbon Monoxide and Gas Safety Society (CMGSS) displays evidence that central heating system boilers are one f the most significant contributors to this high number of deaths.
CO is an odourless, colourless gas produced predominantly by an incomplete burning of related carbon-based fuels, especially gas. CO is incredibly dangerous when exposed to it; it prevents the blood from efficiently carrying oxygen thoroughly through our bodies and ultimately can rapidly kill us.
When exposed to carbon monoxide, the symptoms can result in breathlessness, nausea, headaches, lack of consciousness, chest pains, visual problems and plenty of stomach pain or issues.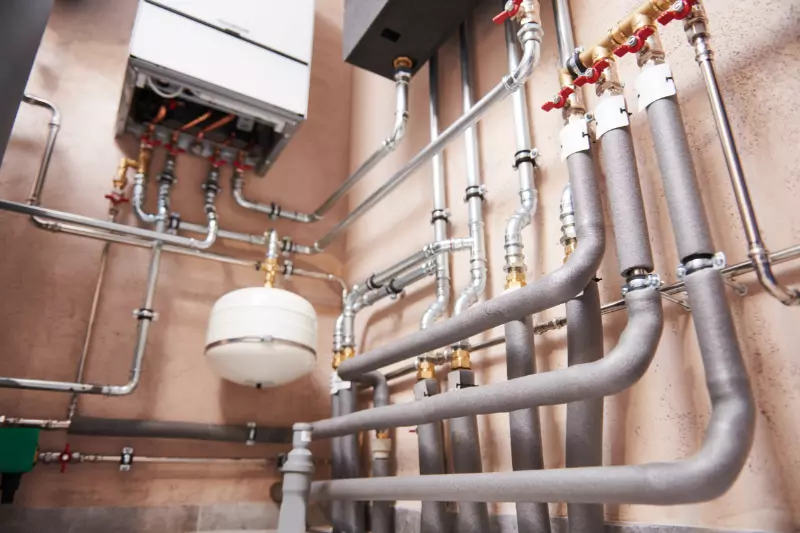 One of the best ways to protect yourself, your family or your housemates from carbon monoxide hazards is to purchase and invest in a carbon monoxide detector. These detectors will alert you of any dangerous leaks so that you can call out a professional as soon as you can.
You can also ensure you get annual boiler service as keeping your boiler in check will make sure all faults and repairs are seen before issues crop up before colder seasons quickly.
Those households with old-fashioned facilities with non-room sealed boiler systems or hidden flues are most at risk of carbon monoxide dangers. Whilst there are no legal requirements for initiating annual boiler service; however, it is essential to schedule them not to put your household or property at risk.
Signs Your Boiler Needs Servicing or Replacing
Clogged Filters
The filter inside of your boiler can sometimes become clogged or built-up. Suppose this happens or you begin to notice it; replacing and cleaning is the next step to amend this. You will want to be getting your boiler filter safely replaced at least once every month. Suppose you discover that your filter is grower dirtier than expected. In that case, you may wish to contact a trained professional to inspect your boiler system to check if everything is working properly. Inspections and boiler servicing will help prevent major costly breakdowns.
Leaks
If you begin to notice your boiler is leaking or has leaked, you must call engineer professionals. Leaks are one of the most significant signs of an inefficiently operating boiler; however, it is also a sign that other, more critical issues accumulating over time. An unnoticed or neglected boiler leak can lead to severe property damage, the growth of mould, and various other problems. Don't wait; call to service your boiler and thorough gas safety check. It can help keep you safe and save you lots of money.
Lack of Maintenance in the Past
If you cannot remember the last time engineers had serviced your boiler, it may be an excellent time to go online and search for or visit a local plumbing company that can offer you a service.
The last thing you will want is for winter to come and discover that your boiler is facing issues, failing or experiencing a breakdown.
If you desire a warm, cosy winter, call for maintenance services or a replacement and ask for a free quote. During an inspection of your boiler or gas appliances or gas safety maintenance, your professional may also be able to offer advice on how to keep and look after your boiler.
Slow to Heat Up
Some homeowners or landlords can be hesitant to call on professionals for boiler repair when their central heating system is slow to heat, seeing it as a mundane, minor issue that will ultimately repair itself. However, it could be a bigger problem than you perceive, so it's best to contact a qualified heating engineer. Don't wait for a total boiler breakdown or extreme gas pressure.
Operating Issues
Your boiler may not be operating correctly or efficiently if you notice cold patches or warmth only reaching certain areas of the house or property. It may not be a case of control issues or air handling, it may be down to your boiler, and to confirm this theory, you may want to contact a local professional to complete gas safety checks. You could use this opportunity to have your boiler replaced or repaired.
Poor Energy Efficiency
Even if you cannot detect any real signs of any boiler issues, there could be underlying problems that you are missing as someone who is not a professional in the industry. It can be shocking for homeowners when they discover that the reasoning they require a boiler repair can all be displayed in their monthly bill.
You must expect your energy costs to rise in numerous aspects throughout the year, especially central heating as the weather grows colder. It is beneficial during this time to have a fully operating and efficient boiler.
Rising costs may be a sign of inefficiency, so it's best to avoid increasing your spending to heat your home. Keep out for any indications of failures in your boiler and get them repaired as quickly as possible before a breakdown leading to a very expensive instalment in the long run.
You've Begun to Hear Things.
Suppose you have begun hearing a strange whistle, banging or hissing noises coming from your boiler; this may be a significant indicator that deposits are forming. Not all boiler problems that engineers find will require extensive repairs or a new boiler replacement. Deposits could accumulate if you neglect them over long periods, and the repairs you may need may gradually become more expensive or lead to a complete breakdown.
Age of Your Unit
Are you aware of how old your boiler is? It may be best to assess how long you or the property has had the boiler you currently use. Your unit may have provided you with numerous years of efficient service; however, it may be best to invest in a quality boiler replacement if it has been there for many years or more than a decade. Modern units are far more efficient in modern homes and can save you plenty of time and energy, even at a high cost.
Poor Air Circulation
If you can sense that your boiler isn't correctly heating hot water or your home to its maximum temperature, this is something to pay close attention to. If this occurs, it could be related to problems with the belt or fan motor inside. For your own peace of mind, contact a boiler expert and call them out to get it thoroughly checked so that they may professionally remove the boiler casing. It can be costly to replace the belt or fan motor.
Gas Leakage
If you find that you can smell gas, you must turn your boiler off immediately. Doing so will disrupt the household, but it is most necessary for the situation at hand as you may be at risk of a gas leak. Take steps to avoid any sparks that may come from switches or lighters. You must have professionals come out to your home or property as soon as possible not to put your household in danger.
How much is a boiler service?
You want to do your best to avoid all future problems that could occur in terms of your gas boiler, so it's best to seek out a boiler service annually. Annual boiler services allow you to ensure your boiler and central heating system is all in good working condition.
Doing so can enable your Gas Safe registered engineers to detect and accurately diagnose problems early on. The earlier you can do so can reduce the costs of repair before the damage is done.
Should you fail to get your boiler serviced annually, it will eventually invalidate the boiler's warranty. A one-off boiler service can cost around £861, and it is worth investing in to keep your household safe and warm during the wintertime when you regularly use your central heating system.
Boiler Services
If you require a new boiler repairs in Norfolk, please contact our engineers today. We offer Gas Safe installations and repairs at affordable prices.