Landlord Gas Safety Certificates

Norwich and Norfolk
Do you require landlord gas safety certificates in Norwich and Norfolk? If you rent out the house or apartment to a tenant, you must ensure it is safe. Call our Gas Safe engineer today.
If you are a landlord or property owner in Norwich or Norfolk, you need experienced and reliable Gas Safe registered engineers to ensure your property is safe. We are experts at performing all the necessary checks, installations and boiler services you could need doing, and we offer quality work at affordable prices!
Call now and receive Norwich and Norfolk's premium plumbing repair and installation services today!
What information is on a Landlords Gas Safety record?
A landlord Gas Safety record is a history detailing all the work a landlord has had done to their properties. It is also a legal requirement for all landlords and their letting agents to have access to these records.
This work includes safety checks, services, repairs, installations, and inspections of all gas appliances that require regular maintenance, such as plumbing and heating services. More specifically, a landlord must have the following;
The description of the checked appliance as well as the location on the premises
The identity and signature of the gas safe engineer responsible for the check
The date on which the check was completed
The address of the premises where a check was completed or appliance was installed.
The landlord's name and address
Any faults that were found during the check and what actions have been taken to resolve them Confirmation of any safety checks made to appliances after the fact and what they resulted in The Landlords Gas Safety record is an important document that must be updated once a year at minimum to receive a Gas Safety checks certificate. This certificate proves that the premises are safe and that any gas appliances on the property, such as plumbing and heating, are functional.
Who needs Landlord Gas Safety Certificates?
As a landlord, you are mandated by law to ensure gas safety for the inhabitants of whatever property you rent out. This means regular maintenance performance and an annual Gas Safety check by Gas Safe registered engineers to ensure that the property is safe and that all its heating, plumbing, and gas appliances are in working order.
Furthermore, it is the landlord's responsibility to record each safety check they have had done on the property and hold onto such documentation for a minimum of 2 years.
It is not just landlords who need Gas Safety certificates, however. You will also need one of you are a; Housing association, Local authority, Hotel or B&B business, College, Boarding school, or Hostel. To put it simply, if you are the owner or your business owns a property that serves some accommodation to people, you will need to ensure that the accommodation is Gas Safe compliant.
As for what exactly needs to be checked to be eligible for a Gas Safety certificate comes down to what you own as the landlord or property owner and provides for the tenants.
For example, if the house you rent out to students already has a gas appliance, you are responsible for its maintenance. If those students then went and brought their own gas appliances into the house, it is their responsibility to maintain the appliance itself.
At the same time, all you would be responsible for is the gas infrastructure of the house that supplies the appliance.
You might already be thinking about circumstances where the application of these rules becomes unclear. Here are some common circumstances and their points of contention, as well as their solutions:
What if an appliance is brand new and less than a year old? When should I get it checked?
You will need to have it checked 12 months after its installation date. Furthermore, it is actually possible to align the date of its annual check with the rest of the appliances in the property for convenience. This is a one-off thing, though.
My tenants have left, but my Gas Safety check record is still valid. Will I need to do another one for the next tenants?
No, the annual Gas Safety check record is always valid for 12 months, and so long as your next tenants move in before it runs out, you can apply it to them.
What if I have a gas appliance installed in a part of the premises, not for residential use, such as a gas fire?
In this case, while it would not be required under the landlord's gas safety check, it would still be your responsibility under other legislation, such as the HSW Act. Also, if you have a gas appliance that isn't installed in a residential part of the premises but is supplying the residential parts, such as a central heating boiler, then that would be your responsibility for the landlord's gas safety check.
So who is actually qualified to perform these checks?
Long story short, the law requires a Gas Safe registered engineer to perform all checks for the landlord's gas safety check certificate. Even if you are an engineer with prior experience as a gas fitter or plumber, you cannot perform the check if you are not certified. The only exception to this rule is that of a non-registered plumber installing things like pipes and other parts of the heating system. At this point, a Gas Safe registered engineer will make the final connections and connect the system to the system boiler itself.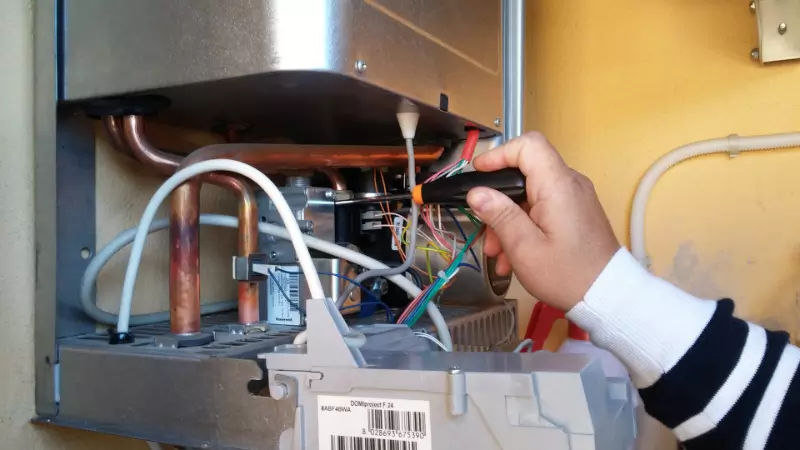 While it is necessary for an annual check of all gas appliances in the property, landlords also have a responsibility to keep the pipework maintained and working. This requires a more routine inspection and repair than other appliance safety checks.
So which pipework is the landlord responsible for exactly?
Similarly to the relationship between the property owner and their tenants, the landlord's responsibility is the installation of pipework implicit to the property itself. At the same time, the external service pipes are not their responsibility but that of the local pipeline operator.
Who is qualified to perform this maintenance?
Once again, it falls to the gas safe registered engineer to perform these checks and their subsequent repairs.
What needs to be maintained?
All gas appliances and any flue installed on the actual premises must be maintained by a Gas Safe registered engineer. This includes any gas appliances that serve the property, such as the aforementioned central heating boiler or similar appliances.
As for repairs, if an appliance gets broken, who is responsible for fixing it?
So long as the appliance that needs repairing simply suffers from wear and tear, it falls to the landlord, provided that the appliance is theirs and not the tenants'.
In this situation, it is typically also the landlord who pays for it. If the tenants are responsible for the damage, though, it is a matter regarding the tenancy agreement to decide who is responsible and who pays, but they will likely have to search for their own engineers to have it fixed or replaced.
To contact our company, please call 07776 114 113 and receive a quote today!
Do you require Landlord Gas Safety Certificates in Norwich and Norfolk? If you rent out the house or apartment to a tenant, you must ensure it is safe. Call our Gas Safe engineer today. We can perform all the necessary checks and issue Gas Safety certificates for local landlords.
PPP Plumbing Services specialises in landlord gas safety certificates. Landlords for responsible for their tenant's safety. That office is important to obtain gas safety certificates for all your accommodation. If you rent out the house or apartment to a tenant, you must ensure it is safe.
Gas Safety Regulations require landlords to ensure gas appliances and fittings are safe. This also means you have to do regular maintenance and gas safety checks. This check should be done once a year. A Gas Safe registered engineer should carry out checks and maintenance. This is to ensure that work is done properly and according to standards.
Once your equipment has been checked, you will receive a landlord gas safety certificate. You should also ensure that you keep copies of this for at least two years. At PPP Plumbing Services, we provide safety certificates to landlords. We are Gas Safe registered and can inspect all your gas appliances and fittings. This will ensure they have been correctly installed.
The report will also outline the specific checks we have done or any services. We have performed. This can get a better safety record. We ensure that all your gas appliances work safely and meet all the required standards. This way, you can ensure that your tenants will always be safe while renting an apartment or house from you.
Contact us today if you require landlord gas safety certificates in Norwich and Norfolk. PPP Plumbing Services is the premium provider of heating and boiler maintenance in the Norwich area.
Our helpful team will be happy to assist with any enquiry that you may have about our services. For more information about our landlord gas safety certificates, phone 07776 114 113.